R&D: "E-ACTUATOR" programme
The "E-ACTUATOR" programme, developed by EMT INDUSTRIE, benefits from the support, synergies and skills of the LEMAN INDUSTRIE group.
This programme, which concerns the development of an innovative electric actuator, supports the strategic position of the group in the turbo automobile sector.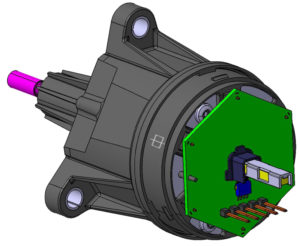 The mechanical and electronic engineering skills used in this programme are supported by the technical production advances of LÉMAN INDUSTRIE in the areas of cutting, injection and assembly. The hardware and software study phases (power card and measurement card) are guided by a comprehensive approach that takes into account the optimisation, from a prototype stage, of the characteristics of each piece:
lip seal,
moulded stator,
assembled rotor,
bride rotor,
PCB,
O-ring,
cover,
etc.
Thanks to the initial results obtained and motivated by the technical challenges of this programme, the LÉMAN INDUSTRIE group confirms its active engagement in industrial innovation and reinforces its leadership in the turbo automobile sector

Would you like to find out more about the "E-ACTUATOR" programme?
Contact us.